Homeless, Food, & Shelter
Holiday Musical Performance and Carnival at Hope Gardens Family Center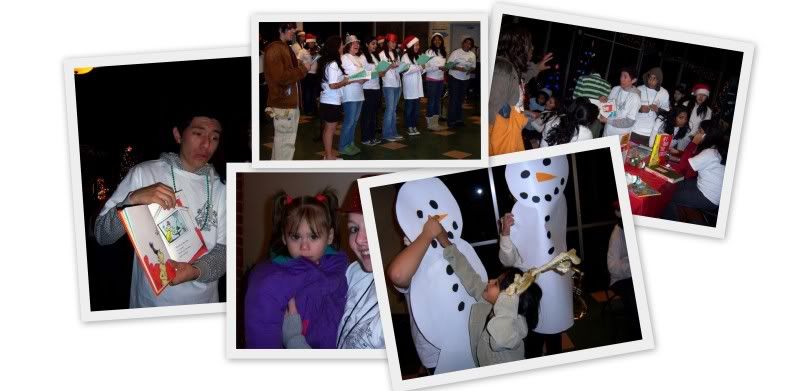 In the midst of the holiday season, VAMS volunteers visited residents of Hope Gardens Family Center for a Holiday Musical Performance and Carnival. Hope Gardens is a supportive housing facility where 225 homeless and abandoned women and children find shelter. The event consisted of personalized gifts, live music, and various booths for arts, crafts, and other activities. Santa Claus, enacted by North Hollywood Chapter volunteer Peter Nguyen, even showed up, giving hugs and taking pictures. Meanwhile, the club's talented singers and band of instrumentalists performed many holiday tunes. Afterwards, during the Carnival, the homeless children enjoyed coloring, making jewelry, decorating cookies, and simply chatting with the volunteers. From listening in on "story-time" to dancing, everyone had a merry time.


---
Holiday Food Drive
In 2009, VAMS volunteers coordinated with Ralphs supermarkets to allow members to stand outside of the grocery stores in several locations to distribute fliers to customers, requesting food donations for local families in need. We requested holiday-themed items such as canned yams, stuffing, and cranberry sauce, as well as general food staples such as canned vegetables, cereals, grains, beans, and other nonperishables. Volunteers worked actively to educate people about hunger in our city, and collected over 1500 items to donate to the North Hollywood Interfaith Food Pantry, which is a network of food pantries fighting hunger in the North Hollywood area.


---
Valentine's Day Event at Hope Gardens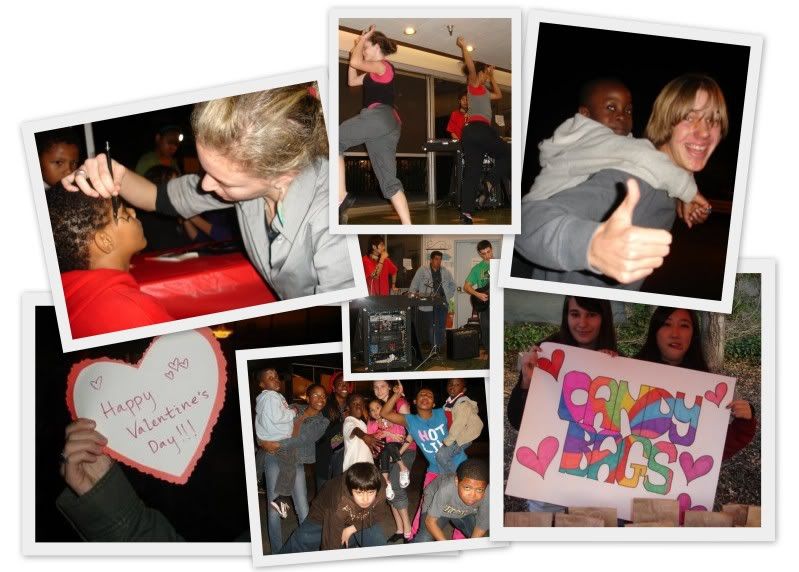 Visual Arts and Music for Society held a Valentine's Day event at Hope Gardens Family Center in Sylmar, CA. Volunteers had prepared several surprises for the children and families at Hope Gardens including games like Pin the Arrow on Cupid, Musical Chairs, and Bean Bag Toss; activities like Card Making, Cookie Decorating, and Face Painting; and gift bags full of candy and small gifts. Our student volunteers set up a carnival style atmosphere for the kids to enjoy themselves. Set up indoors, the volunteers also put on a musical performance complete with singing duos, instrumental performances, and dance performances. Everyone had a blast and the kids kept on dancing all evening long. Another VAMS success!
---
Spring Tiki Luau Event at LA Family Housing
LA Family Housing is an organization whose goal is to help families rise out of homelessness and poverty by providing housing accompanied by services such as daycare. At our VAMS event in June 2010, we engaged the children (as well as parents) living in one of these facilities with arts and crafts and fun, Luau-themed games and performances. These included a fishing game, tiki-mask making, hula hoop contests, vocal performances, and storytelling.
---
Thanksgiving Food Drive
In 2010, VAMS once again donated items to North Hollywood Interfaith Food Pantry to help out local families. We collected over 2000 nonperishable items this time, and also helped with loading them at the food drive facility.
---
Thanksgiving Banquet at San Fernando Valley Rescue Mission
In 2011, VAMS members helped host a Thanksgiving Banquet at the San Fernando Valley Rescue Mission, serving a hot Thanksgiving dinner to almost 1000 homeless or disadvantaged people and their families.